North Wales Decorating
Exterior Painters Based In Rhyl, North Wales
Professional exterior painters covering all areas across North Wales
Exterior Painters and Decorators North Wales
Decorating the exterior of your property is extremely important, not only does it make your property look nice but it also protects your timbers and masonry from the elements of the British weather.
Don't Delay Your Exterior Painting!
Often people want to save their money so they tend to neglect the exterior of their houses which can often result in having rotten timbers to facias and soffit boards, doors, and windows, and masonry disrepair which can result in further decay to the exterior and cause dampness to the interior of your house which is only going to result in costing you more money down the line.
When Should You Paint The Exterior Of Your Property
Once you start to notice paint peeling off timbers such as your facia boards or decay showing to your exterior masonry is a good time to start thinking about having the exterior of your house painted.

If you catch any disrepair earlier rather than later then you're looking to have the work done cheaper than if you decide to let it go for years where we explained above WILL end up resulting in all types of wet-rot and decay.

The rule of thumb is to have your exterior decorated every 6/7 years to keep on top of it!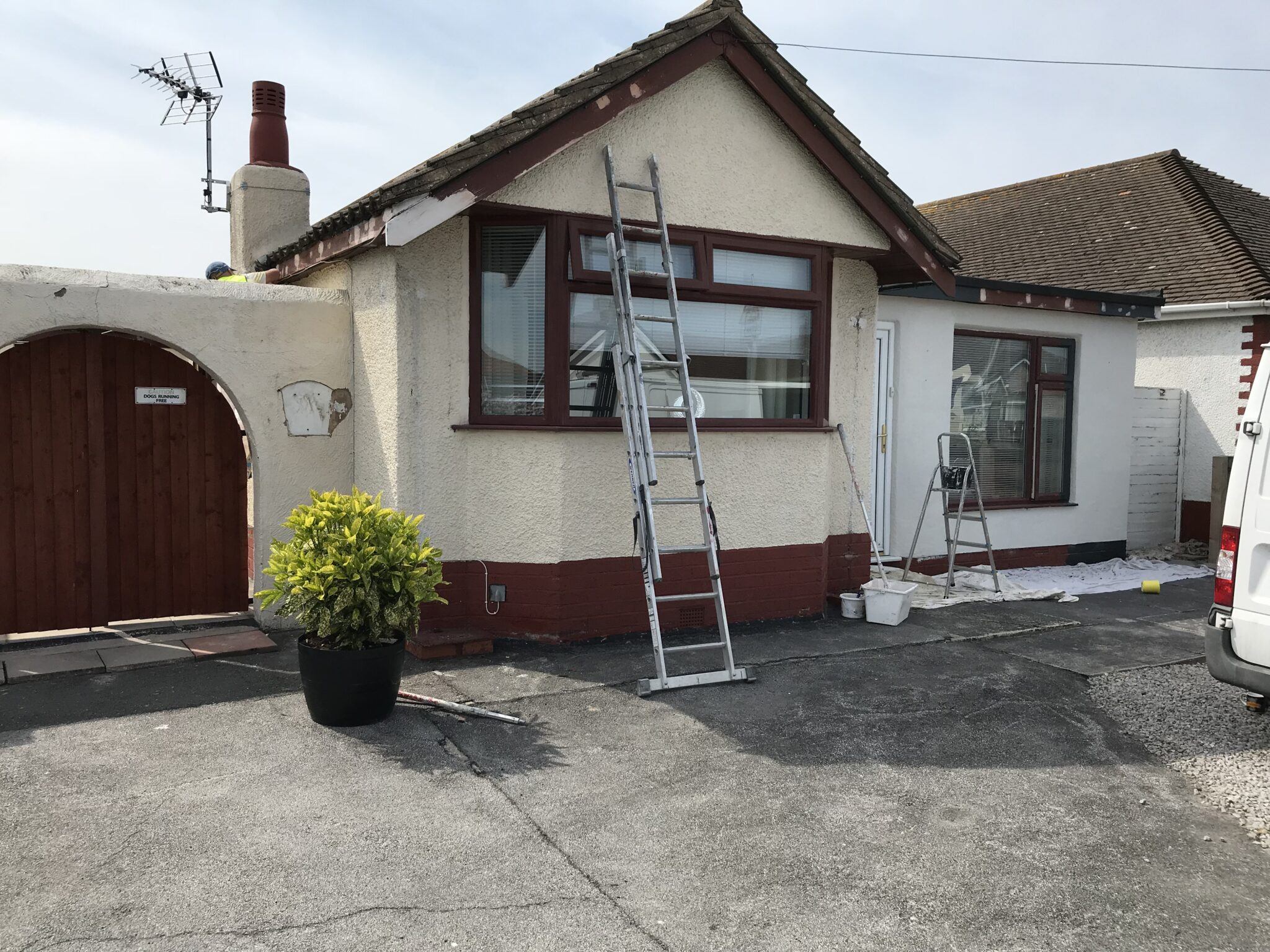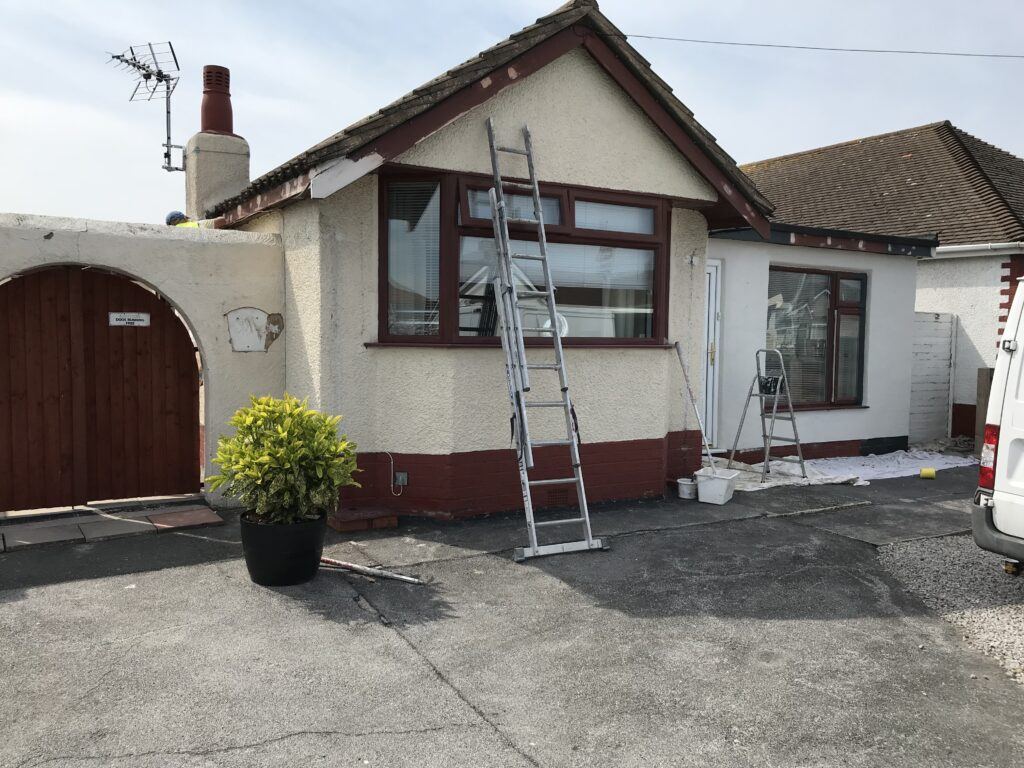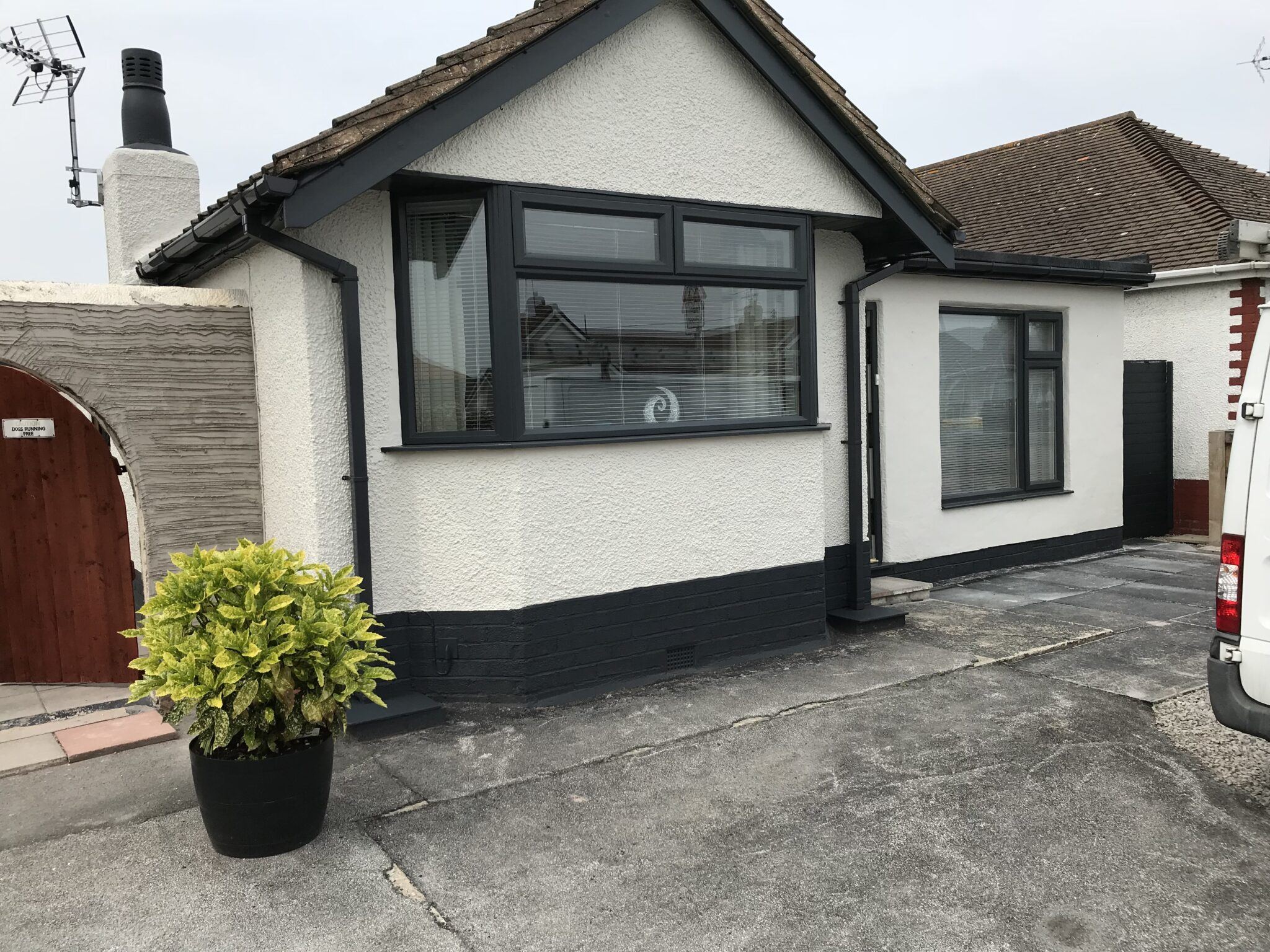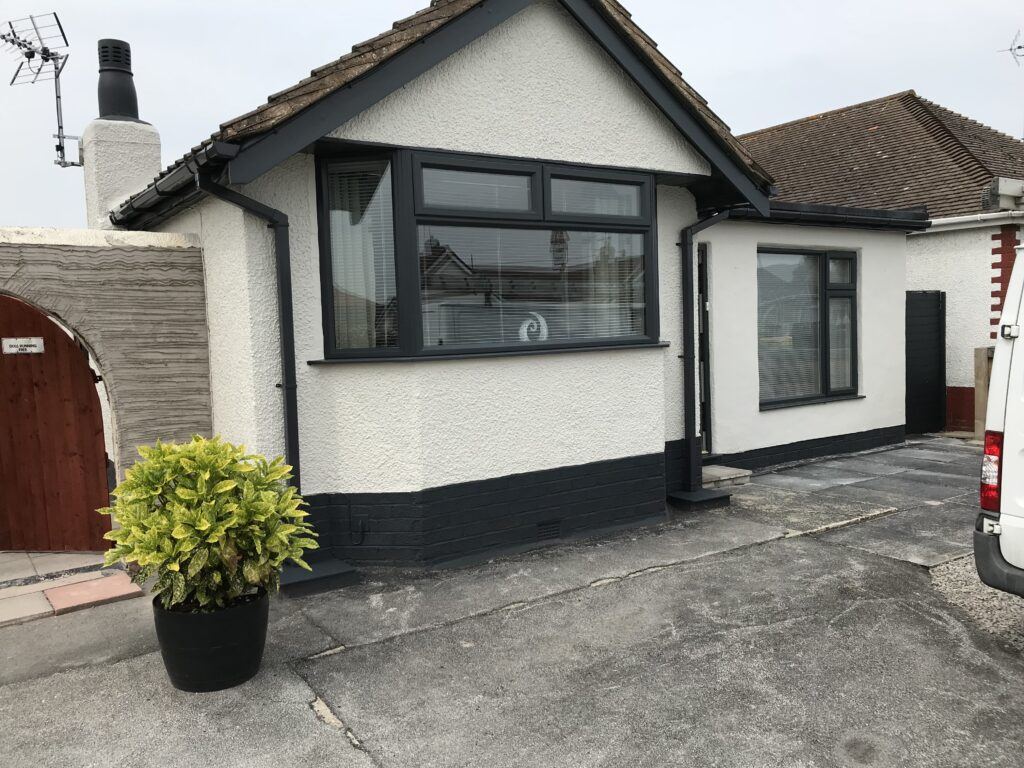 What are The Benefits Of Painting The Exterior Of My House?
Painting the exterior of your home is not only an opportunity to enhance its appearance and boost curb appeal, but it also offers several benefits that go beyond appearance. Here are some of the top benefits of painting your home's exterior.
Protection from weather elements:
The paint on your home's exterior acts as a protective shield against harsh weather conditions such as rain, snow, wind and UV rays from the sun. Paint helps to seal small cracks and gaps in the walls preventing moisture from seeping inside which can cause damp, rotting, peeling, decay or cracking over time.
Increased property value:
A fresh coat of paint can significantly increase the value of your property especially if you're planning to sell your house soon. A well-maintained exterior with quality paint shows potential buyers that you've taken good care of your home.
Cost-effective way to update your home's look and add value:
Painting is one of the most cost-effective ways to give your home exterior a facelift without breaking the bank at the same time as adding value.
Easy maintenance:
Regular cleaning and maintenance can keep your paint looking new for years. Simply washing off dirt or debris every few months will help preserve its colour and overall appearance. This can easily be done with a light jet-wash.
Long-lasting results:
We use High-quality paints that last longer than cheaper alternatives, meaning you won't have to repaint as often saving both time and money.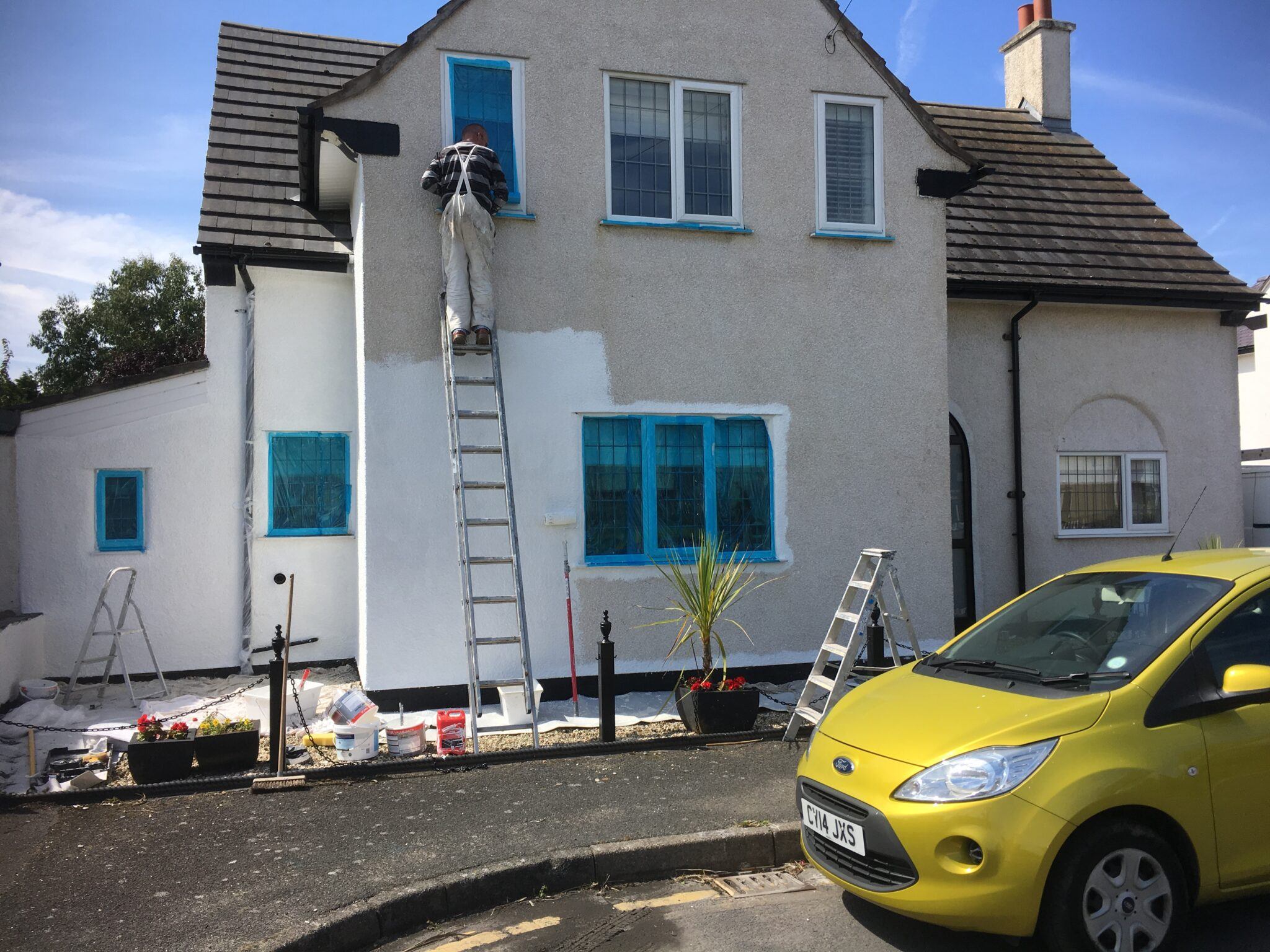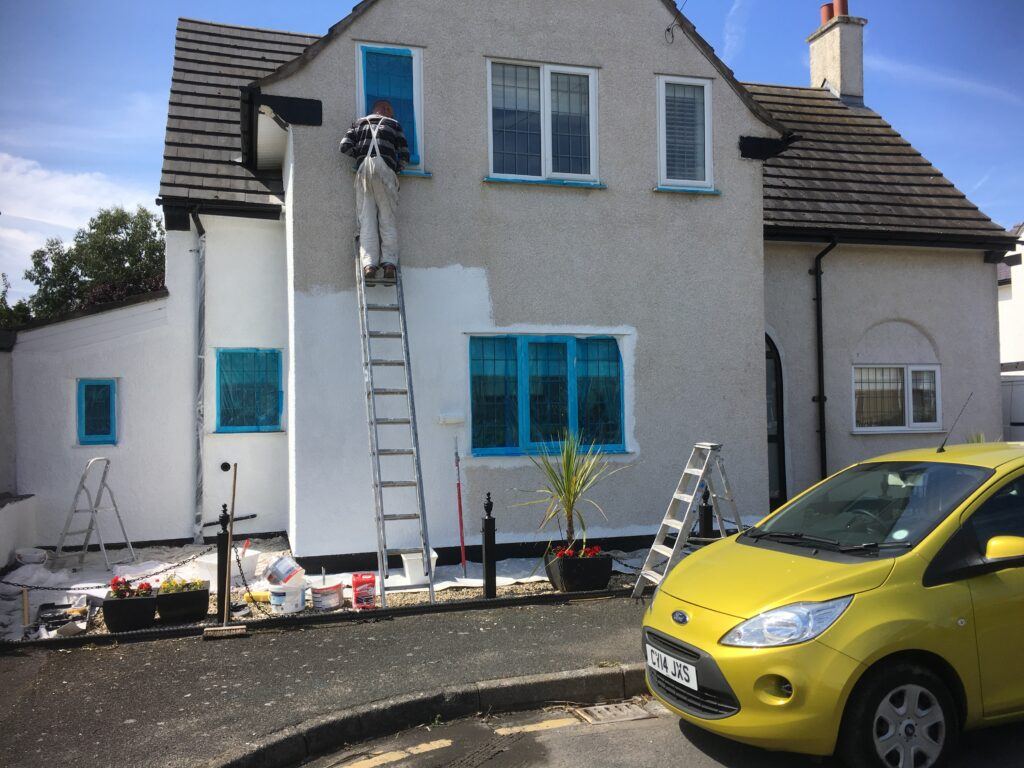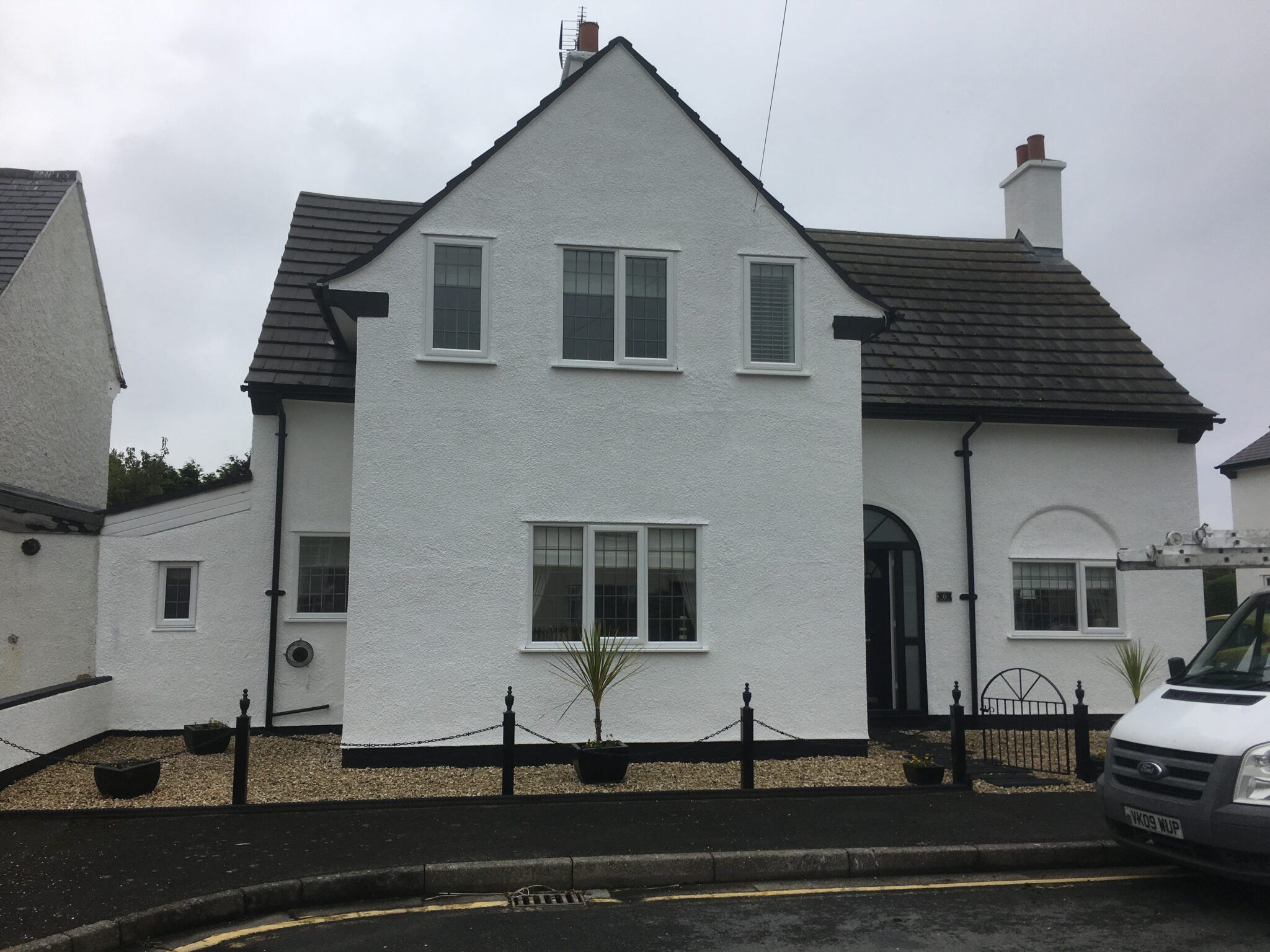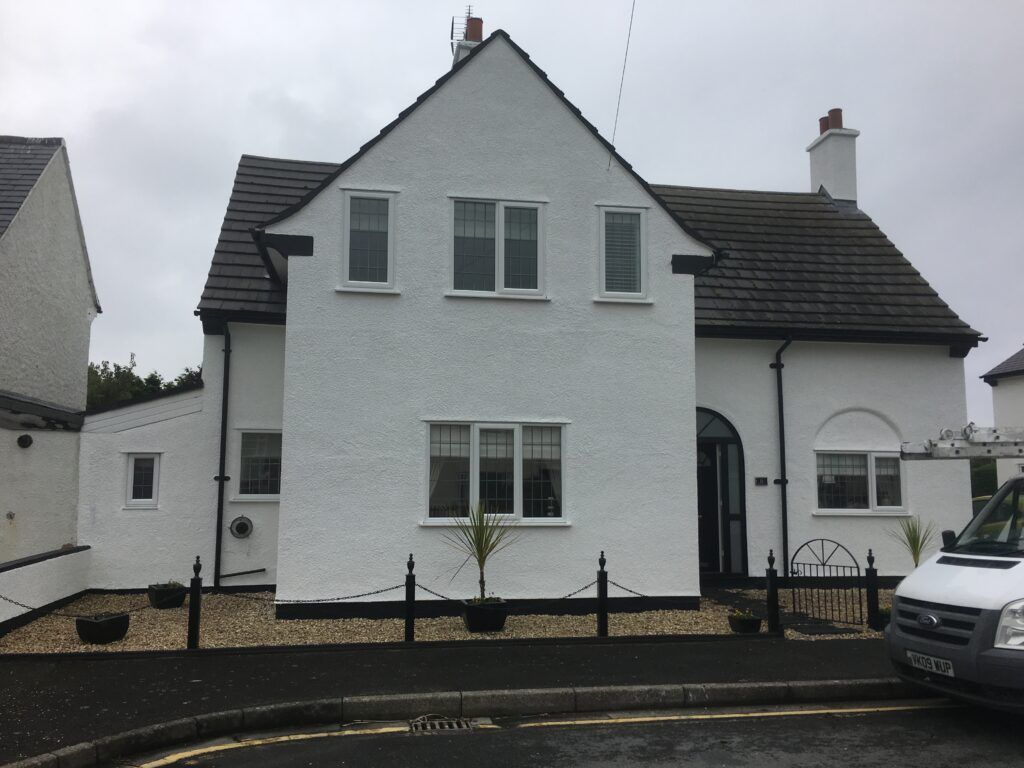 Types Of Exterior Painting Services We Cover
We cover all types of exterior house painting services including
Preparing For Exterior House Painting
Preparation is key to a good finish any any exterior painting job.
Cleaning and prepping the surface to be painted (power washing, scraping, sanding)
Repairing any damage or imperfections in the surface
Protecting surrounding landscaping and garden furniture
The first job we tackle is ensuring all surfaces are treated prior to painting, This usually involves masonry repairs to cracks and blown areas, rotten wood repairs and surface mould growth and algae.
Masonry Repairs – This usually involves filling any/all broken areas with a strong exterior masonry repair filler, treating dry porous areas by scraping/sanding affected areas and applying stabiliser solution where flaking paint is present prior to painting.
Mould Growth – We treat mould growth and algae with anti-fungicidal wash prior to painting to remove any/all signs on mould or algae.
Timber Repairs – We often come across rotten timbers such as tudor boards, facia boards, soffit boards and wooden windows.
Timber repairs are carried out using wet rot solution where required and a tough 2-pack wood filler that is as strong as wood itself, you can expect it to last for many years once the repairs have been carried out.
Wet Rot – This is the worst case scenario where timbers are so wet that they may well need replacing, wet rot solution can be helpful in this situation to re-harden the existing wood though this does depend on how big the repairs are, For smaller areas repairs are treatable, for larger timbers then wood replacement maybe the only way to go.
Spot Priming – All affected areas that have been treated would first be spot-primed prior to painting, for wood we use acrylic wood primer undercoat, for masonry we use stabiliser, peel stop and spot prime affected areas with masonry paint.
Painting – The painting is the easy part of exterior decorating, After preparing and spot-priming affected areas we apply as many coats as needed for maximum protection and a solid finish, We only use the best weatherproof exterior coatings for exterior painting and decorating jobs where we liaise with all our customers about the products we recommend when pricing up the job for labour and materials.
Some exterior decorating projects such as painting pebbledash or heavy textured render can be achieved using the airless spraying method which is much faster than struggling on these types of high build surfaces, Though not all jobs are suitable, it usually depends on the surroundings of your house. we offer advice on this should you contact us for a site visit.
Tools Of The Trade – Scaffold – Towers – Ladders:
All exterior jobs require either full scaffolding, scaffold towers and/or ladders can be used throughout the job in some cases depending mainly on height and access.
We have all the tools of the trade and we have a reputable scaffolding company we use on a regular basis we can recommend to you.
Our Exterior Painting And Decorating Work: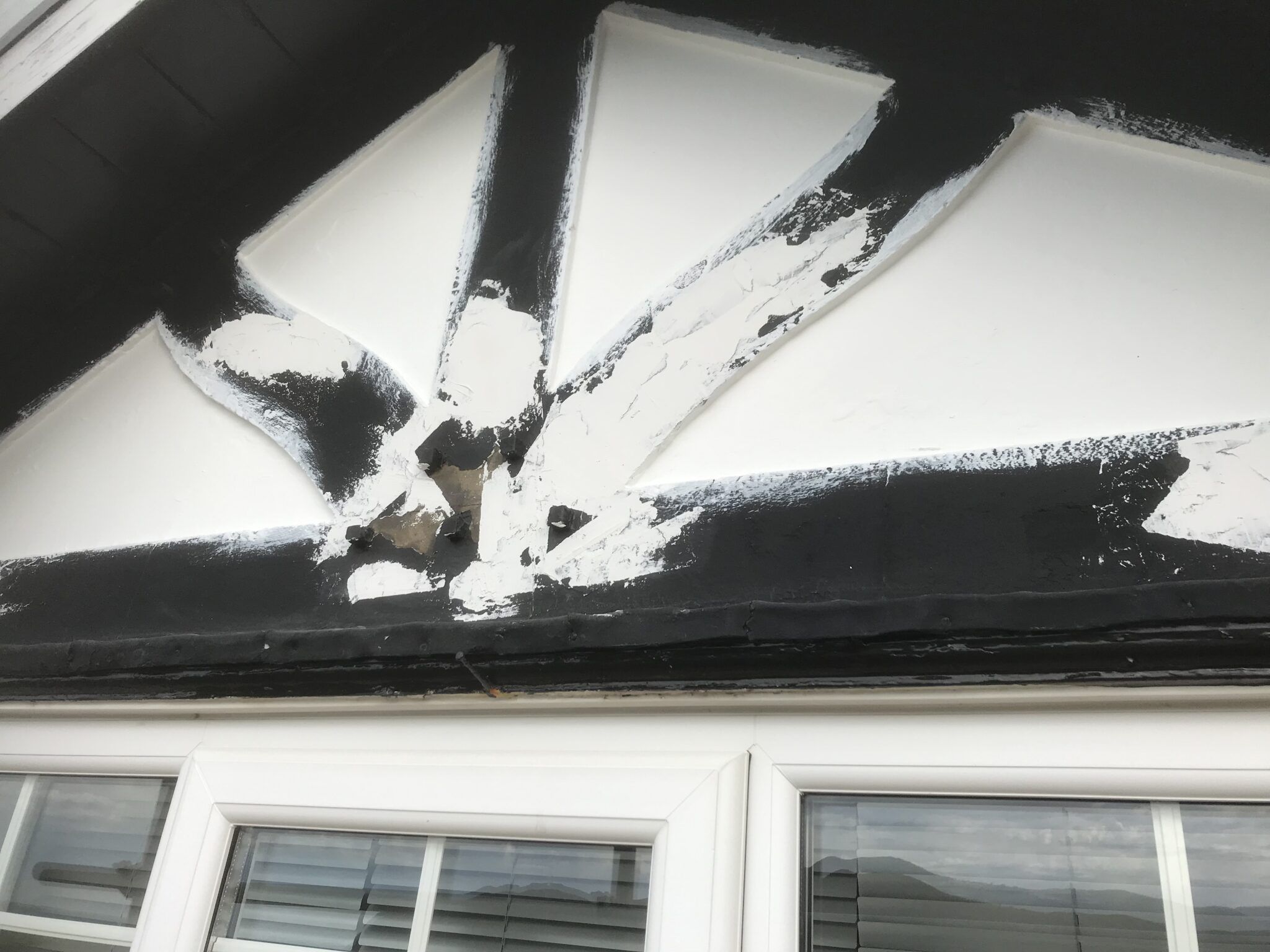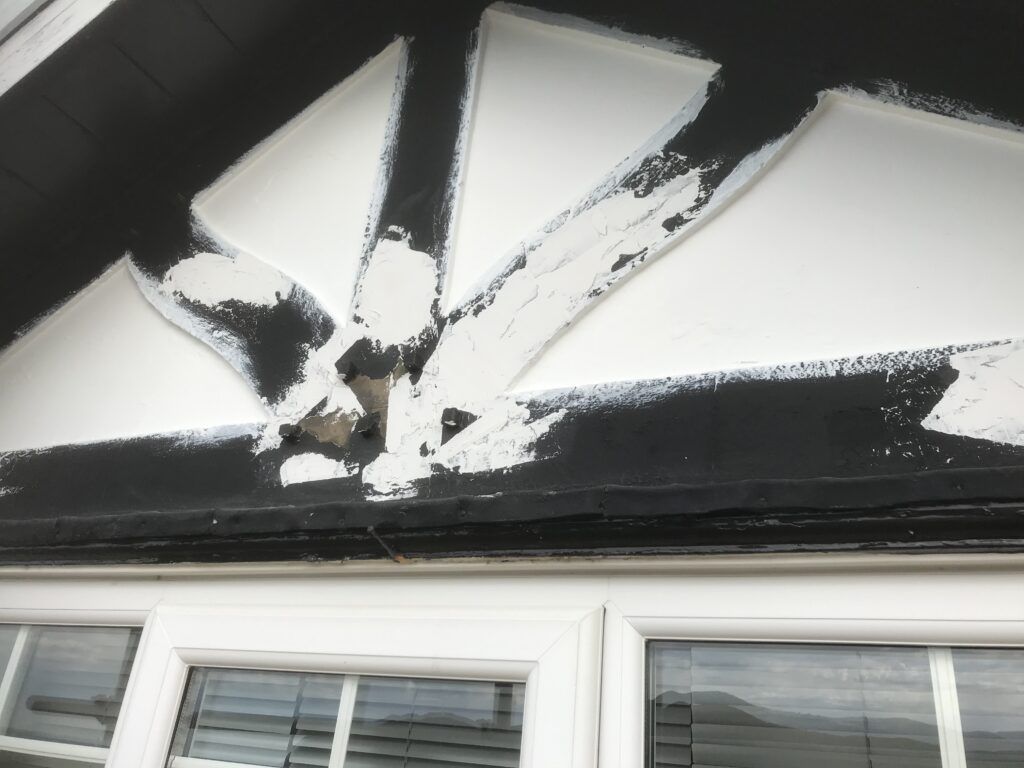 ---
---
Don't Just Take Our Word For It – Check Our Customer Reviews
4 reviews on
Wow! Simon and Tom are nothing short of amazing! It's like hiring the A Team. They don't mess about, they get the job done perfectly and fast! Even if you think it's impossible, they just get it done! We initially booked them to spray paint the outside of our pebble dashed house, which needed a lot of work, they did such a great and thorough job, we then asked them to paint all the inside as well! The house was in need of a lot of work and Simon and Tom knew exactly what needed to be done. They went above and beyond, not only did they paint the outside impeccably, they cleaned all of the outside of the chimneys, which we didn't expect them to do, before finishing it in brilliant white just as we wanted. Everyone has commented what a great job they've done and how great the house now looks. They cut no corners. Everything is done right. As for inside, it now looks like a different house inside a well and has been finished to a super high standard, which we definitely couldn't have achieved ourselves! They again went above and beyond and sorted out all the dented plaster, the cracked old ceilings now look like they are in a new build! Simon was extremely knowledgeable about everything and advised us on colours, materials, and we also soaked up all the advice he gave us about other aspects of our renovation. We felt very lucky to have workmen in with this level of experience and calibre. They showed up early each morning when they said they would, you know exactly where you are with these guys, there's no messing about. They are absolutely committed to the job they are on and work super fast and are incredibly thorough. We would absolutely recommend North Wales Decorating to anyone. Outstanding quality, price and lovely lovely people. Thank you Simon and Tom - we will be back!
Thank you so much guys. First Class Workmanship
Simon at North Wales decorating did a great job painting my external walls. On budget, on time with no fuss. I'd highly recommend North Wales Decorating.
Matched the colour I needed when couldn't get it anywhere else