I have over 20 years of experience in painting new plaster on various different projects across the country, painting bare plaster is easily achievable with the right preparation applied prior to any painting, you need some contract matt emulsion paint diluted with water on a 70% paint – 30% water ratio that can be applied with either rollers and brushes or airless spraying.
Airless Paint Spraying is 10x faster Compared to Rollers and Brushes.
Job size will usually determine whether it's worth spraying or using rollers and brushes for smaller jobs!
The Bigger the Job, The more it's worth considering spray painting for speedy results.

What Paint For New Plaster
All new plaster surfaces will first require a mist-coat using a "Contract Matt Emulsion" prior to adding any further finish coats such as vinyl matt emulsion, or acrylic eggshell of soft sheen emulsion paints best for kitchens and bathroom paint finishes.
My top choice for a contract matt is Macpherson Eclipse Brilliant White Emulsion as it has way better coverage than any other contract matt I've ever used and I've used them all in the past.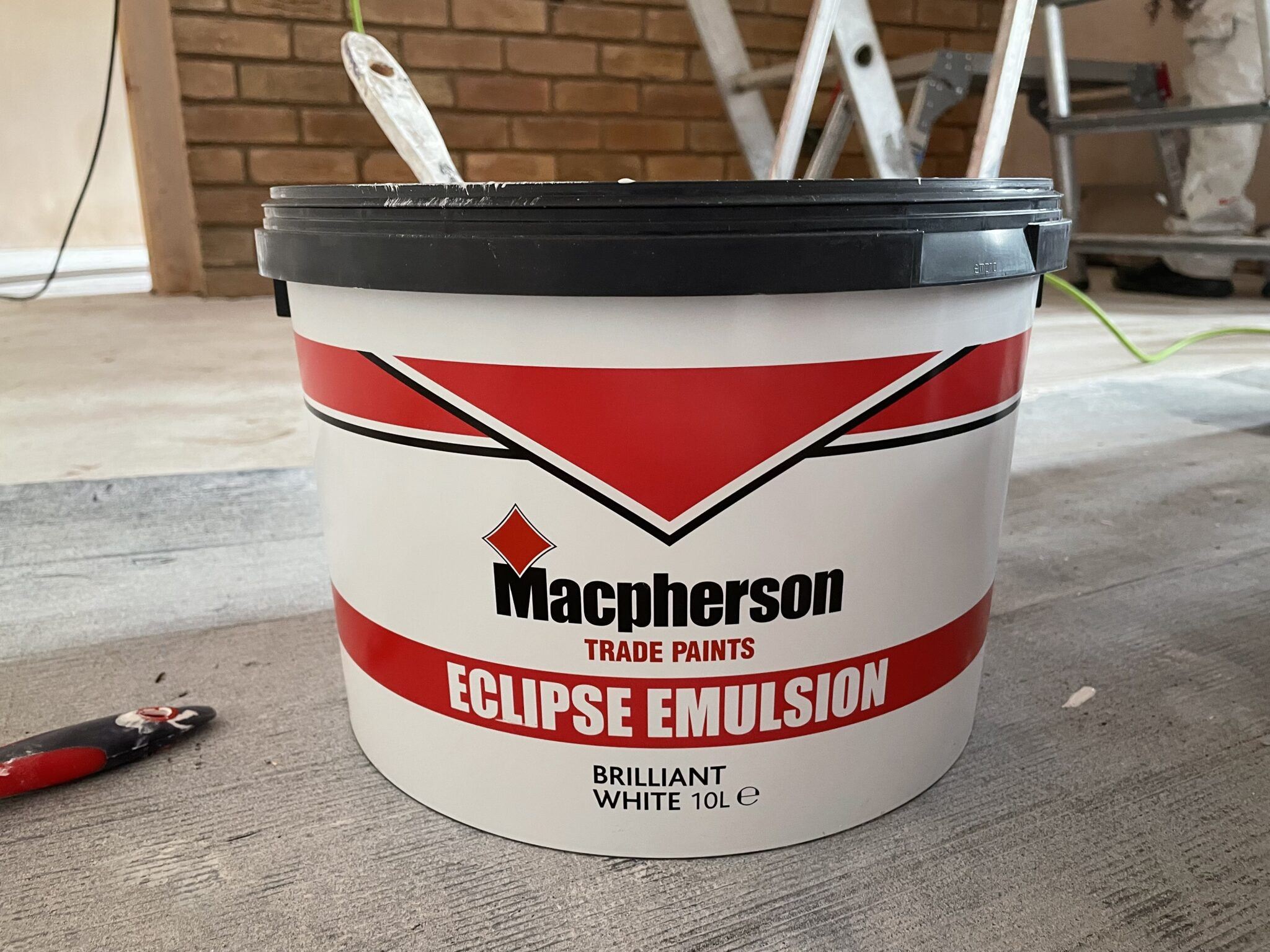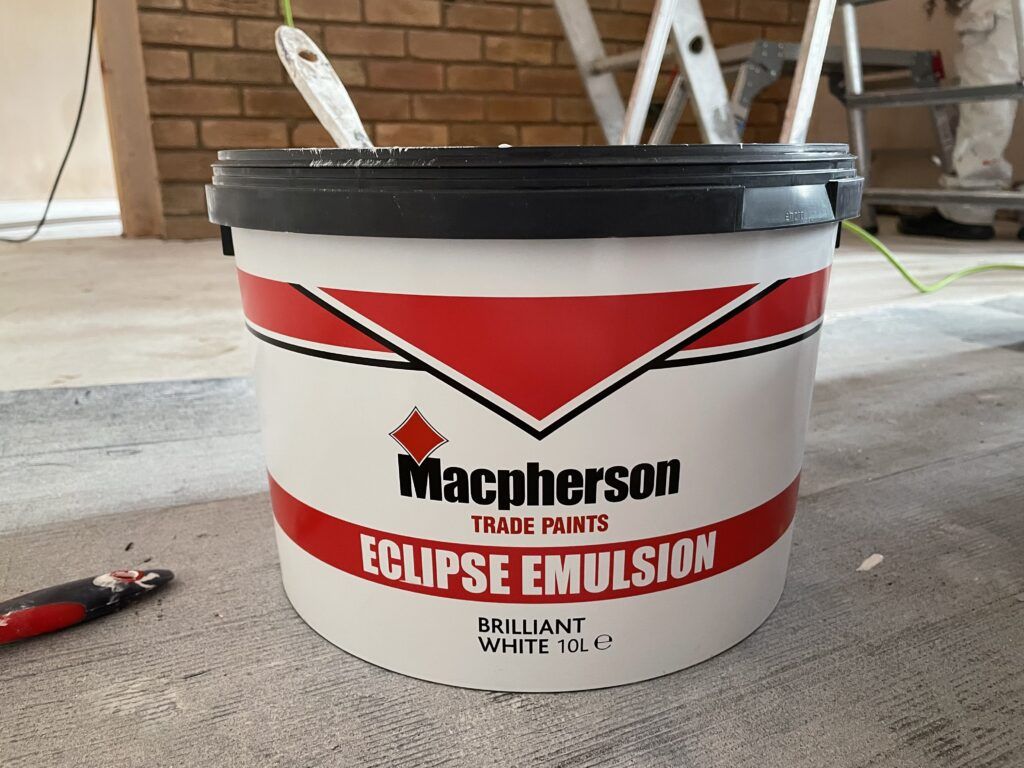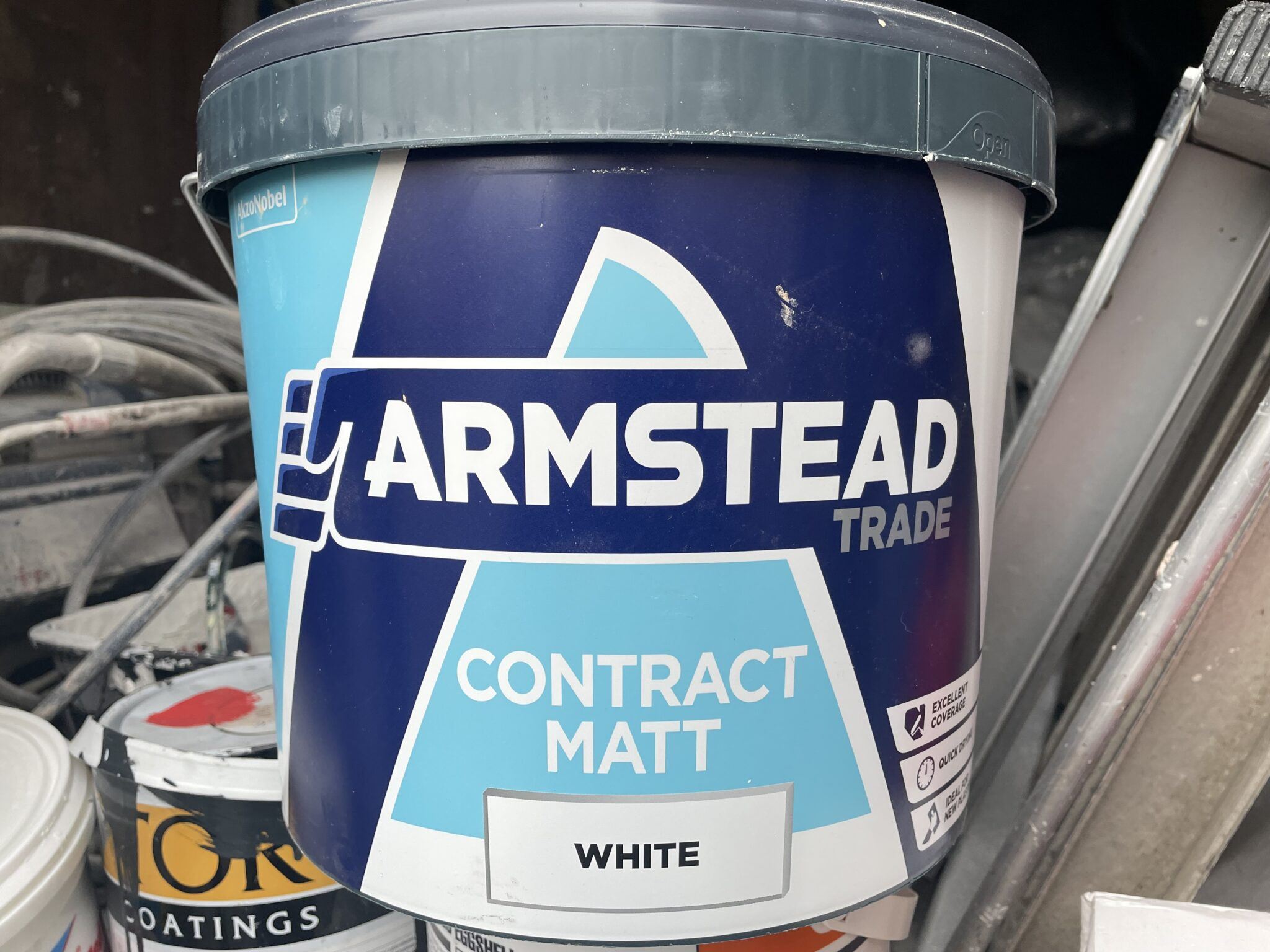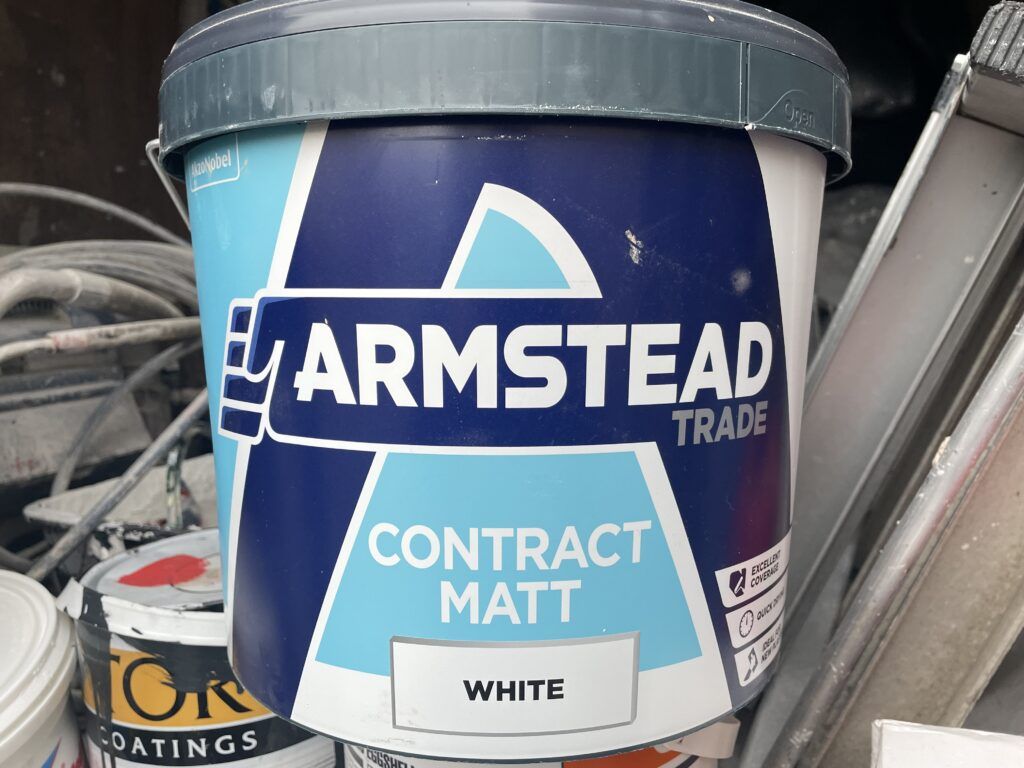 My next best choice would be Armstead contract matt by Dulux ICI which in my opinion doesn't cover nearly as well as Macpherson and it flashes with a slight sheen to it when rolled and brushed on, That said it does spray on very nicely it's also slightly cheaper than Macpherson but not as white as the brilliant white Macpherson Eclipse.
Macpherson is also a much whiter white than any other white emulsion I have ever used, Period!

How To Prepare Plaster For Painting
Use a standard decorator's scraper to remove all snot and droppings left behind by the plasterer on both ceilings and walls.
Use a medium-grade sanding pad or 120-grade sandpaper to remove all sharps left behind by the plasterer. In most cases, you will find sharps in the wall corners and ceiling-to-wall joints. (I recommend using both hands using one hand to feel for imperfections on the wall and the other hand to sand them off) and make use of a duster to dust off after sanding down
Use decorators caulk to close up any gaps left behind by the plasterer, in my experience, You will usually find gaps in the corners and ceiling-to-wall joints where a rounded-off worked-in plasterer's trowel couldn't quite reach.
Use masking materials such as masking tape, dust sheets, and plastic sheeting where required to cover up any furniture, windows, carpets, etc prior to painting.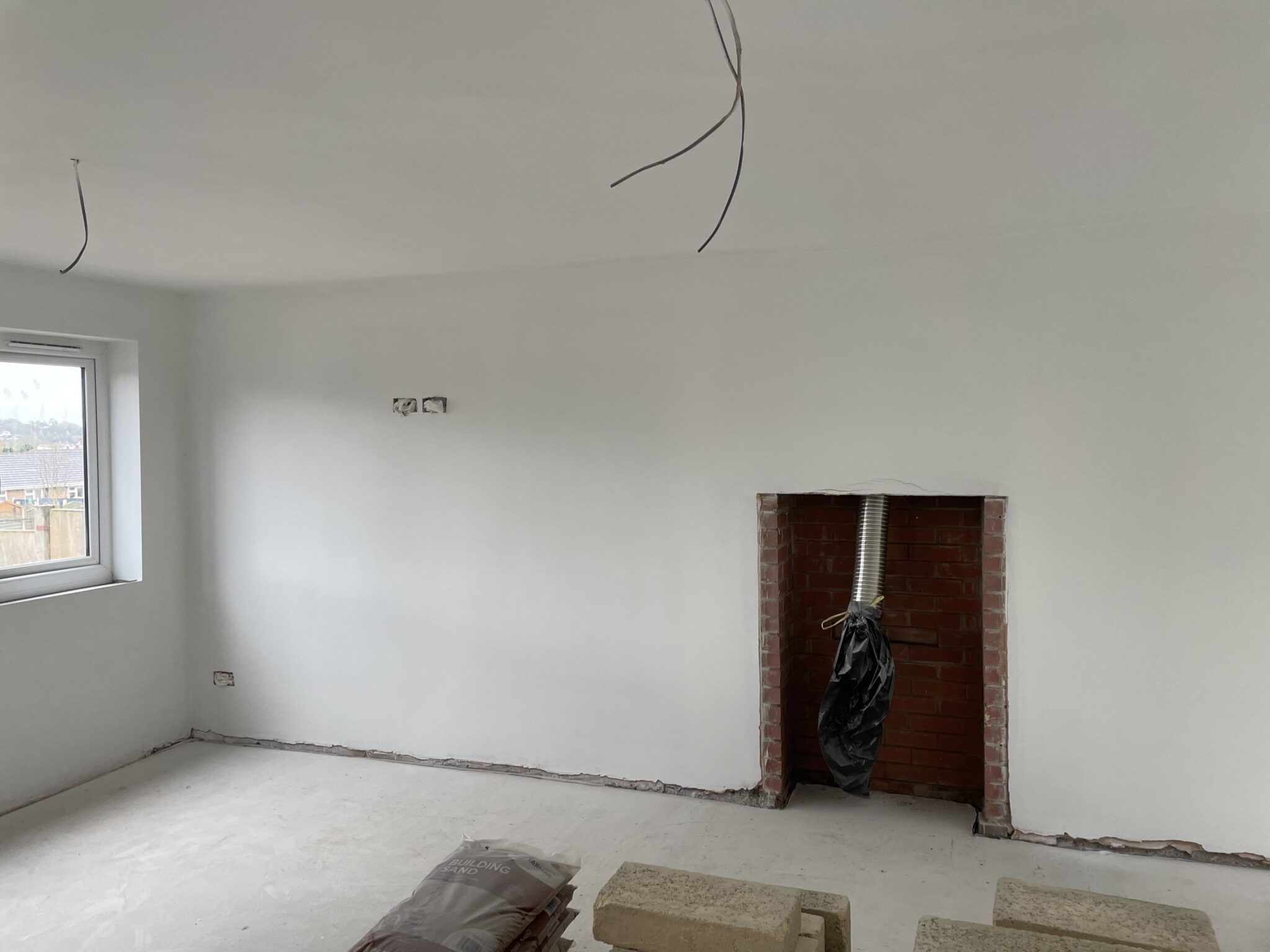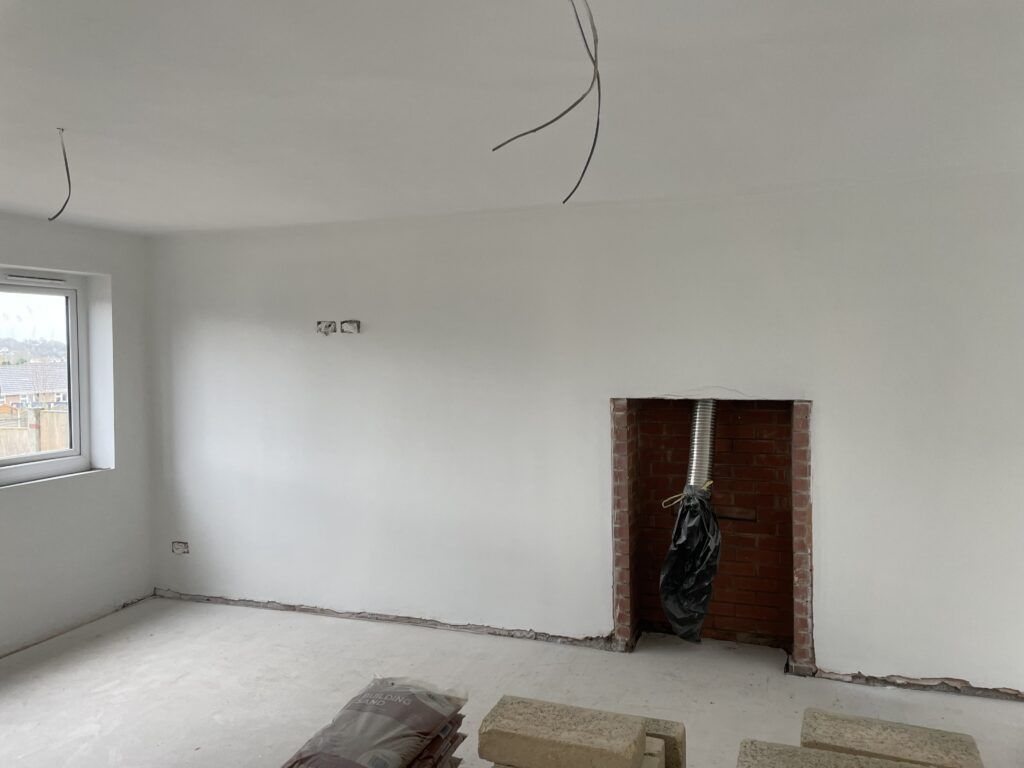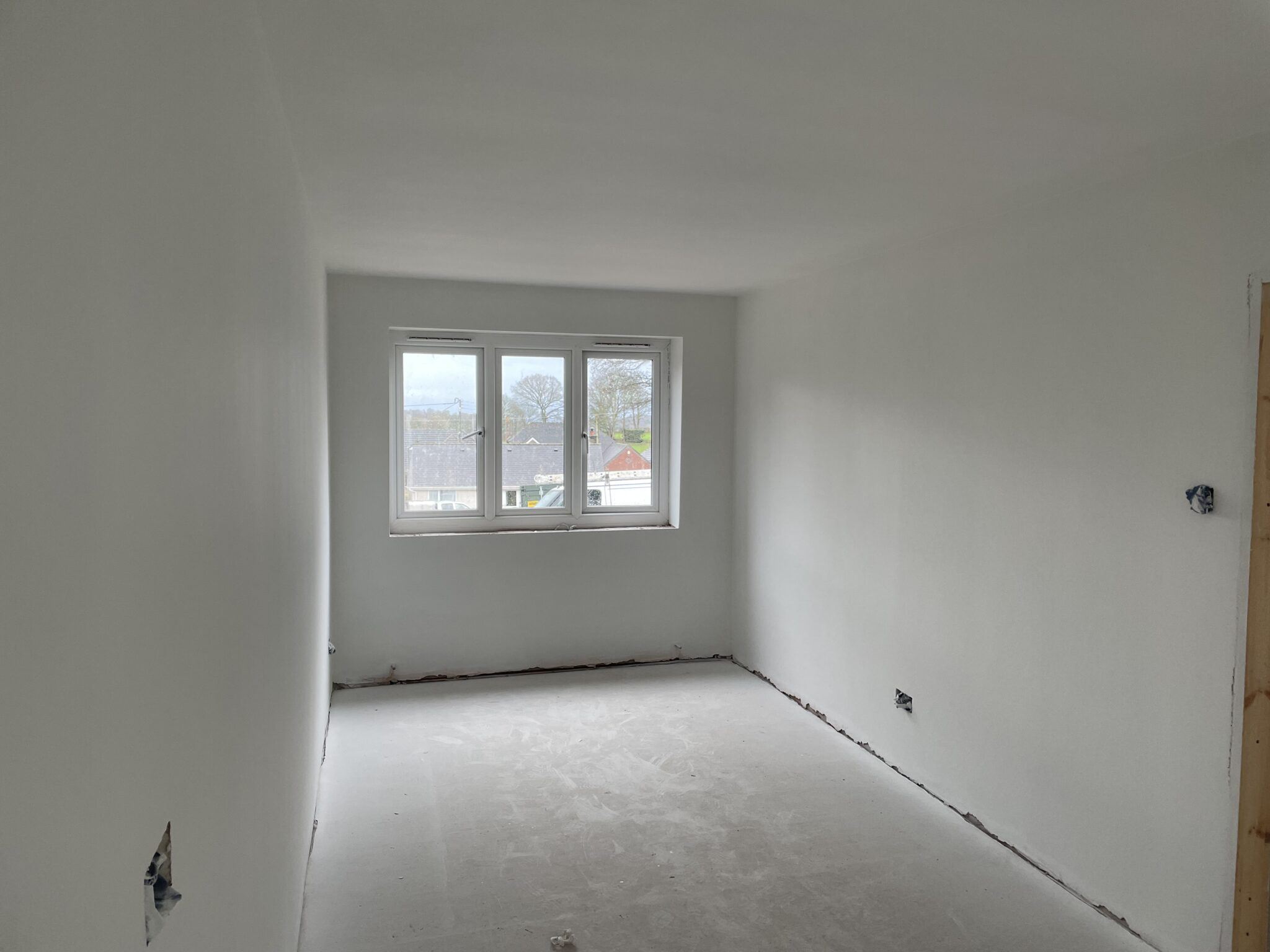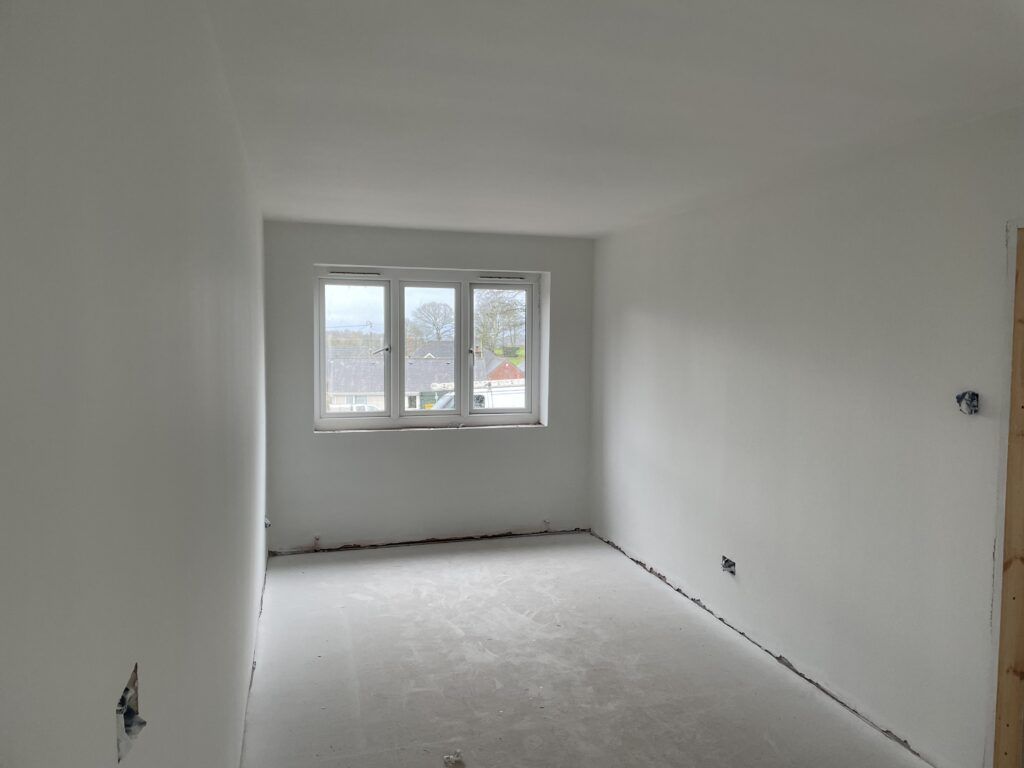 Mist Coat New Plaster
Once you have prepared your walls and ceilings following the steps outlined above then it's time to apply a mist coat to your new plaster.
I recommend using a white contract matt emulsion for best results!
Use a thinned contract matt emulsion with a ratio of 70% paint – 30% water diluted.
Apply a thin coat of paint to the bare plaster using rollers and brushes or an airless spray machine.
How Many Mist Coats On New Plaster?
You only need one mist coat to seal the plaster ready for further finishing coats, That said the more mist coats you apply then the fewer top coats you would have to apply to cover the new plaster.
I recommend finishing your ceilings in white by adding further mist coats until you achieve a solid finish. That said you can add an un-diluted neat coat of paint for better coverage once you have mist coated once.
How Long You should Leave Between Mist Coats?
Usually, the first mist coat would be completely dry and ready for re-coating in less than 1 hour Depending on the humidity will depend on the drying times, the warmer the better for faster drying times.
To know when you are ready to apply the next coat just touch the wall and lightly scratch the paint with your nail, if it comes off easily then wait a bit longer and try again before applying more coats of paint for best results.
I recommend to fine-fill any imperfections to both walls and ceilings in-between coats for the perfect finish, Use a quick drying lightweight filler such as One-Time as shown below.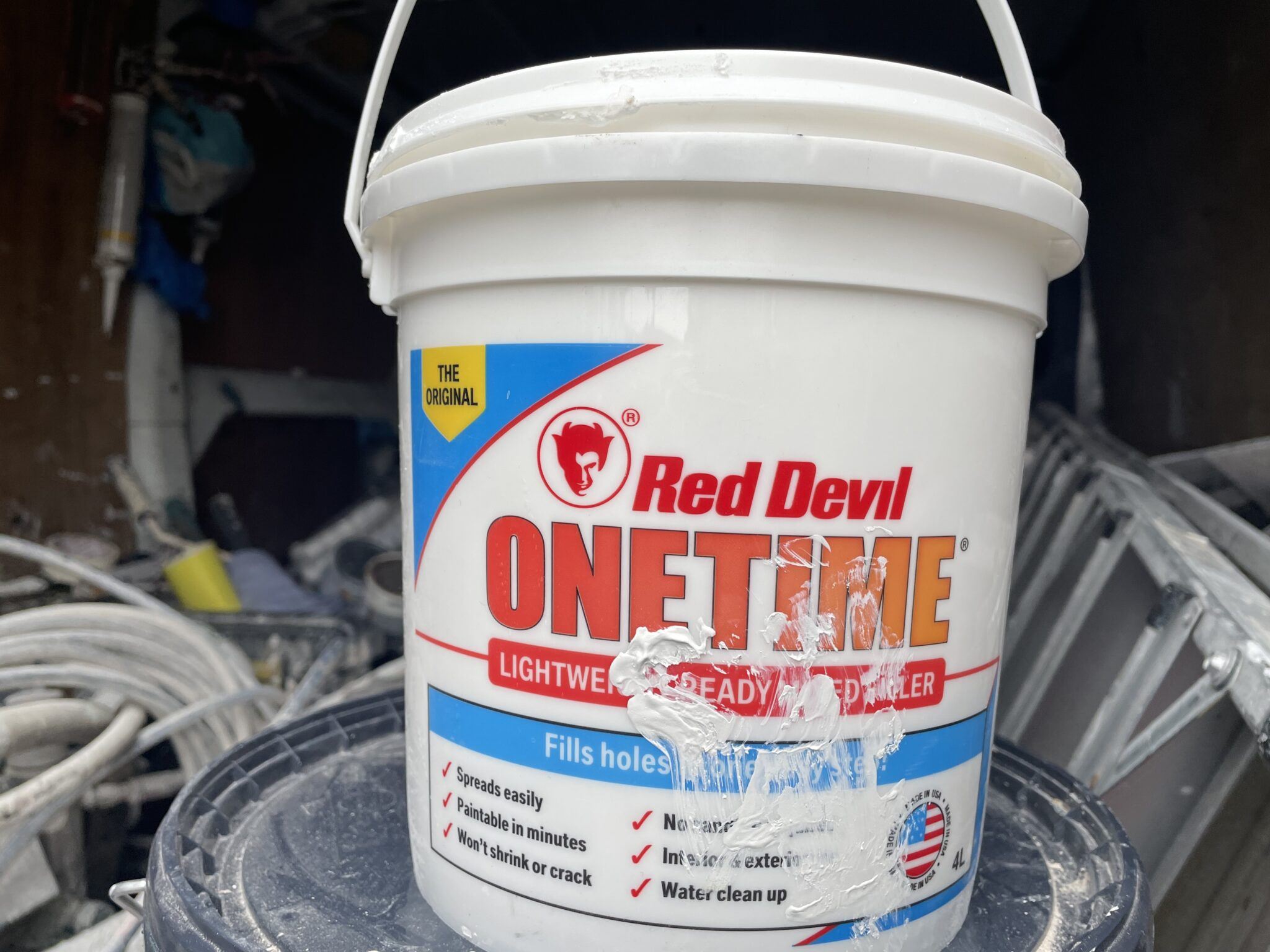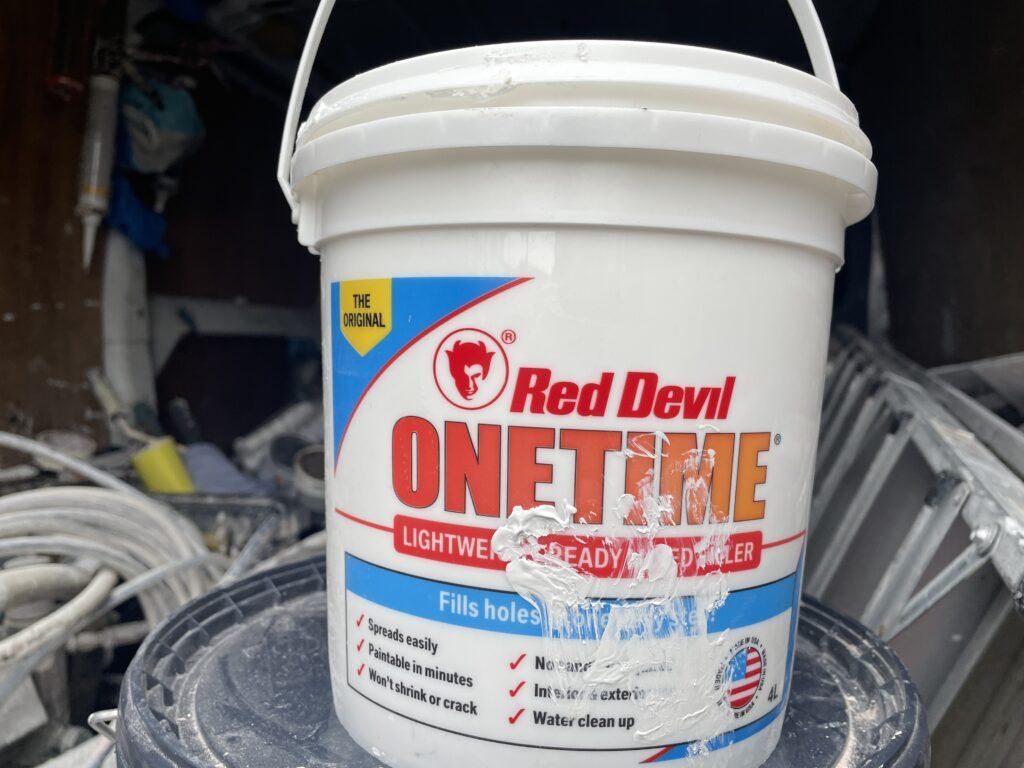 How many Coats of paint on New Plaster
Providing you're applying the paint correctly and evenly then you can expect to cover new plaster in three coats of paint. Preferably one mist coat and two top coats to finish up.
IMPORTANT – Remember, You can apply vinyl matt emulsion to your main living rooms and bedrooms, For your kitchens and bathrooms you should apply a much more durable kitchen and bathroom paint such as acrylic eggshell once the mist coat of contract matt emulsion has been applied and dried out for best longer lasting results. see below image.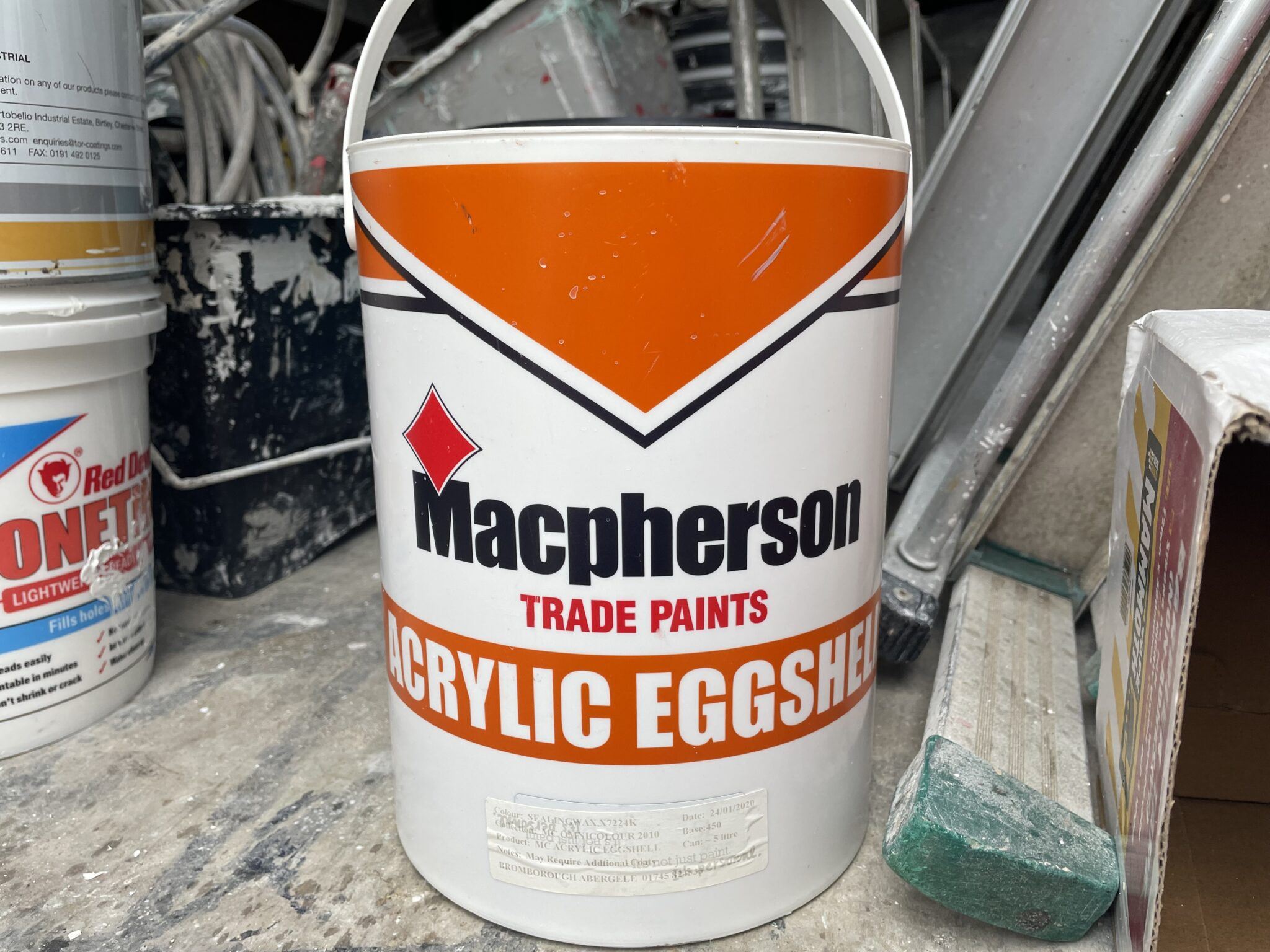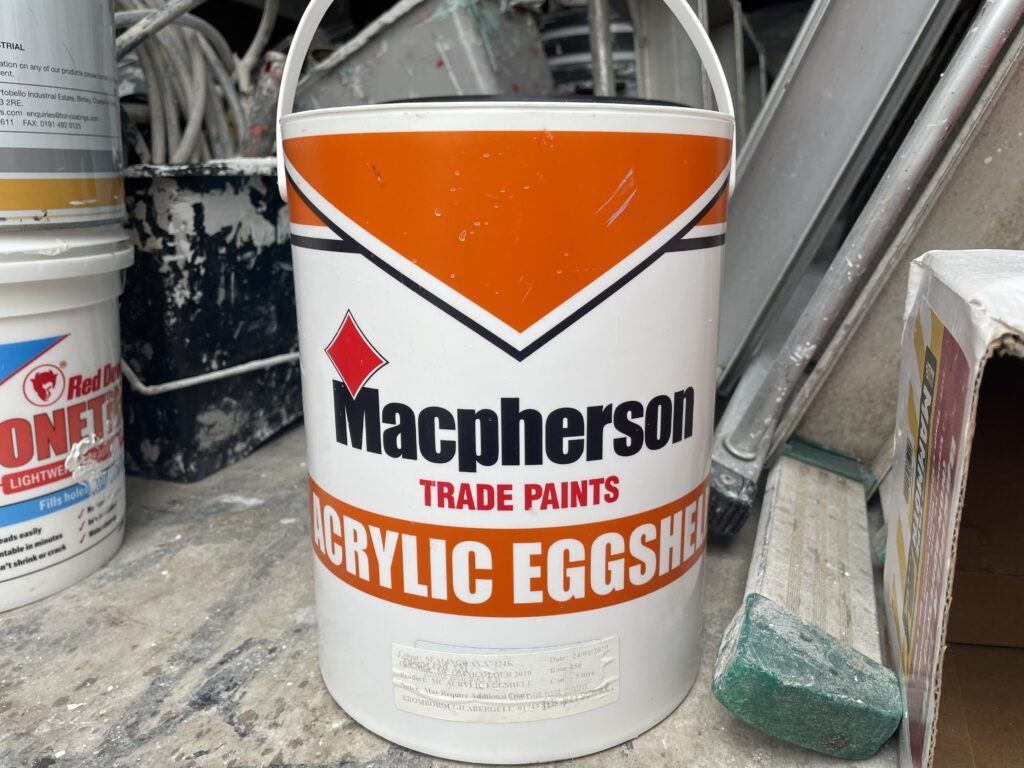 Darker colours may take more coats of paint to ensure a solid finish!
So the deal is, you are looking to paint new plaster with one coat of contract matt emulsion, Let it dry and and finish with your desired finish be it 2 x coats of vinyl matt for your main rooms, 2 x coats of acrylic eggshell, or soft sheen emulsion for your utilities such as kitchen and bathrooms/toilets.

FAQ's
How Long Before Painting new Plaster?
You should definitely wait until the new plaster is completely dry to eliminate the chances of any peeling going forward, The paint won't adhere to the surface properly when the plaster is still wet and can result in peeling because the walls are still breathing trying to dry out which will push the paint outwards and result in splitting, yellowing and peeling possibly occurring.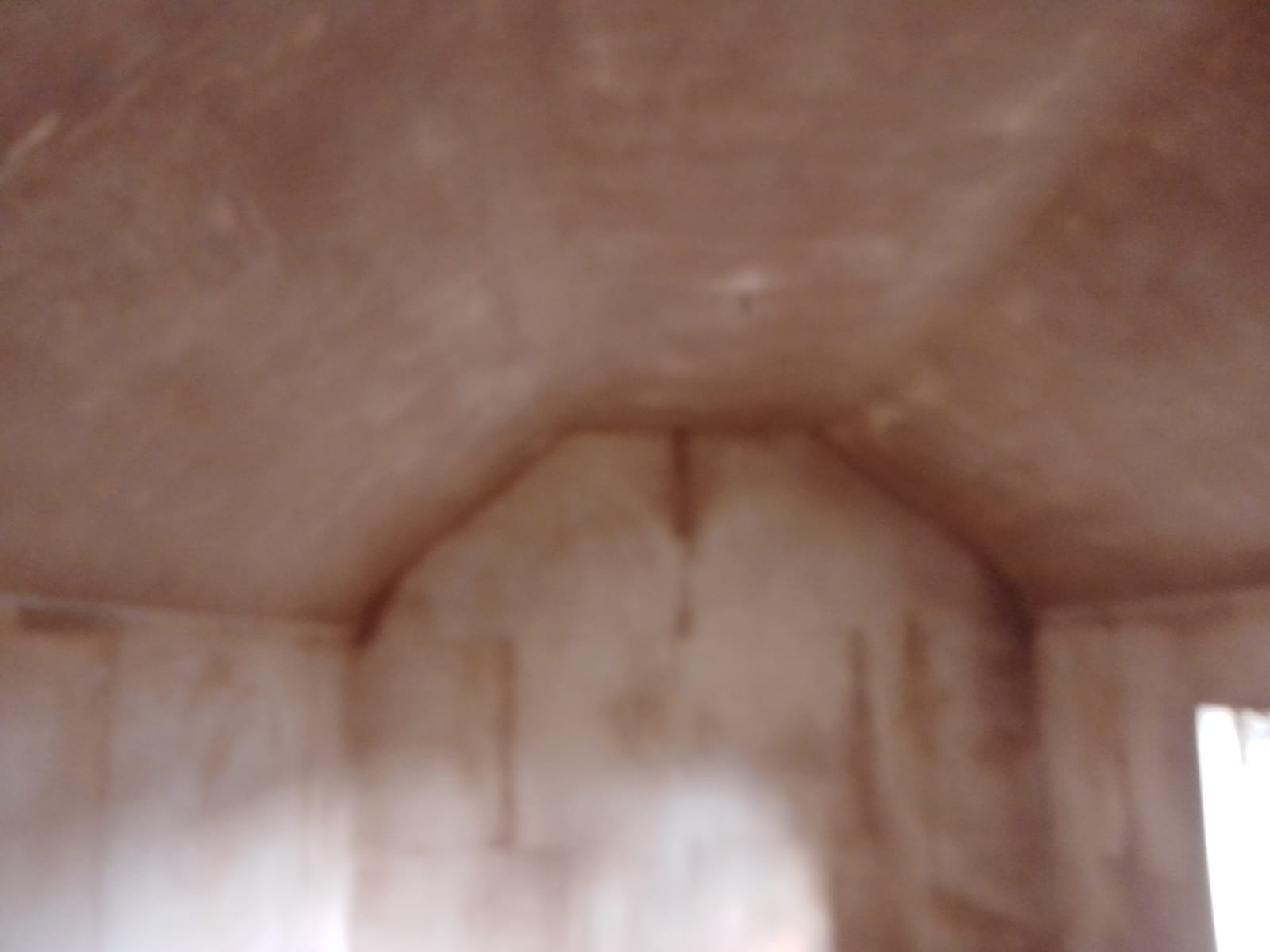 Dry Plaster Should Look Pink Before Painting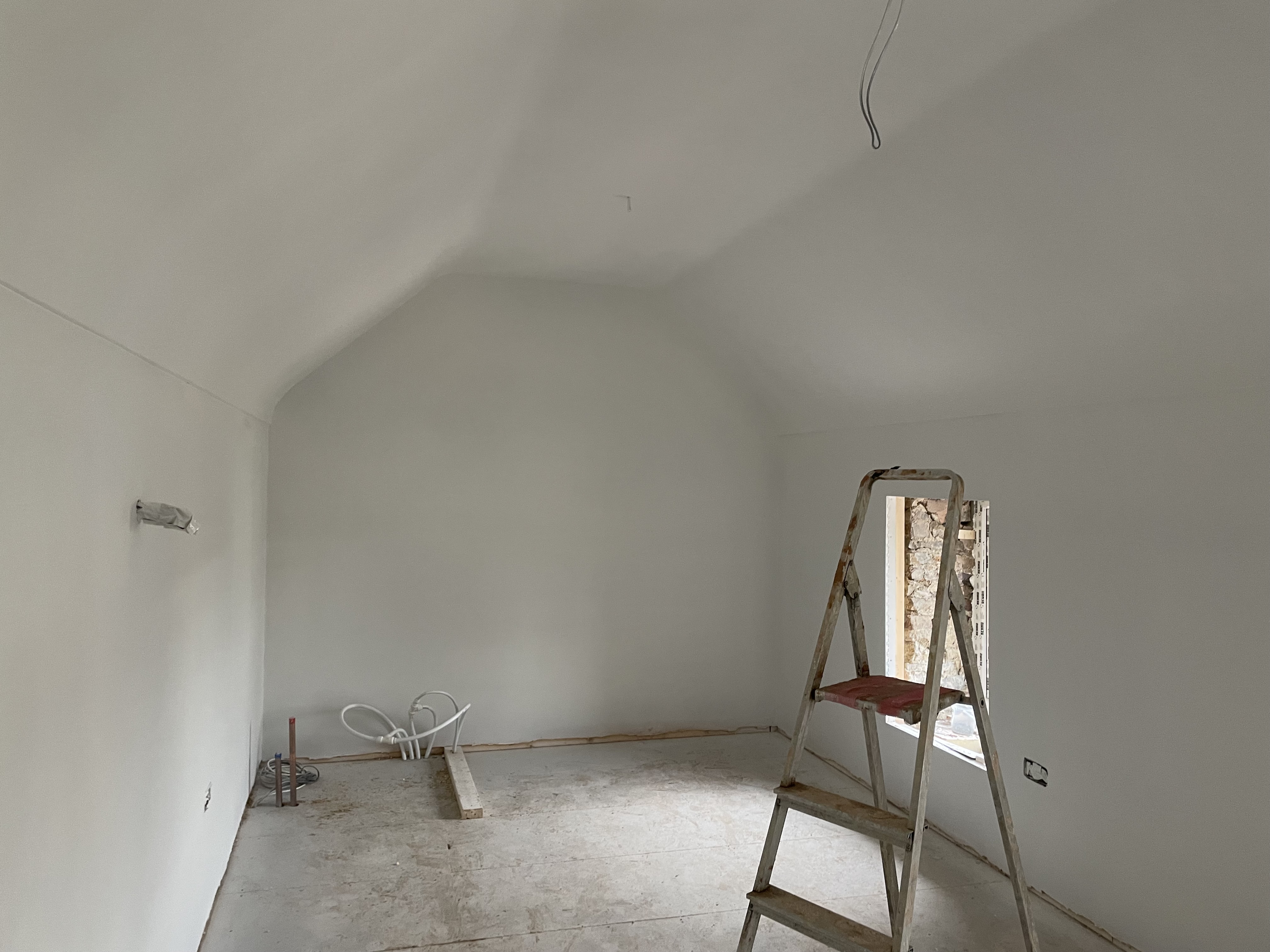 Mist Coated Bare Plaster First Coat
How Long Does it Take Plaster To Dry?
This will always depend on the time of year and humidity and the build type of the walls, you can expect faster drying times in the summer compared to the winter
You will notice some walls dry quicker than others, usually, plasterboard walls dry much quicker than brick walls which will always take longer to dry because there is much less suction behind the new coat of plaster compared to dry-wall plasterboard.
How To Dry Plaster Faster
Though you should really let new plaster dry naturally to reduce cracking down the line there are a couple of tips I can give you to help dry it out faster.
Plenty of airflow by opening windows and doors will help the drying process in a natural way ad reduce the chances of your new plaster cracking up.
You can use a dehumidifier to help draw the water out of the walls and ceilings for faster drying times
Though not recommended due to possible cracking, you can use a heater sparingly in intervals and close windows and doors to keep the heat in which will help with the drying process especially in the winter when it's much colder.
Best Paint For Newly plastered Walls?
I recommend using a contract matt emulsion such as Macpherson Eclipse contract matt which can be purchased at Paintwell centres and crown paints It has been specifically designed for painting new plaster and It reduces all risk of any peeling down the line whatsoever.
You can finish the whole job completed with a contract matt emulsion but I recommend using it for mist coating purposes only and applying a vinyl matt emulsion to finish as it's much more durable than a contract matt.
Can You Spray Paint Plaster?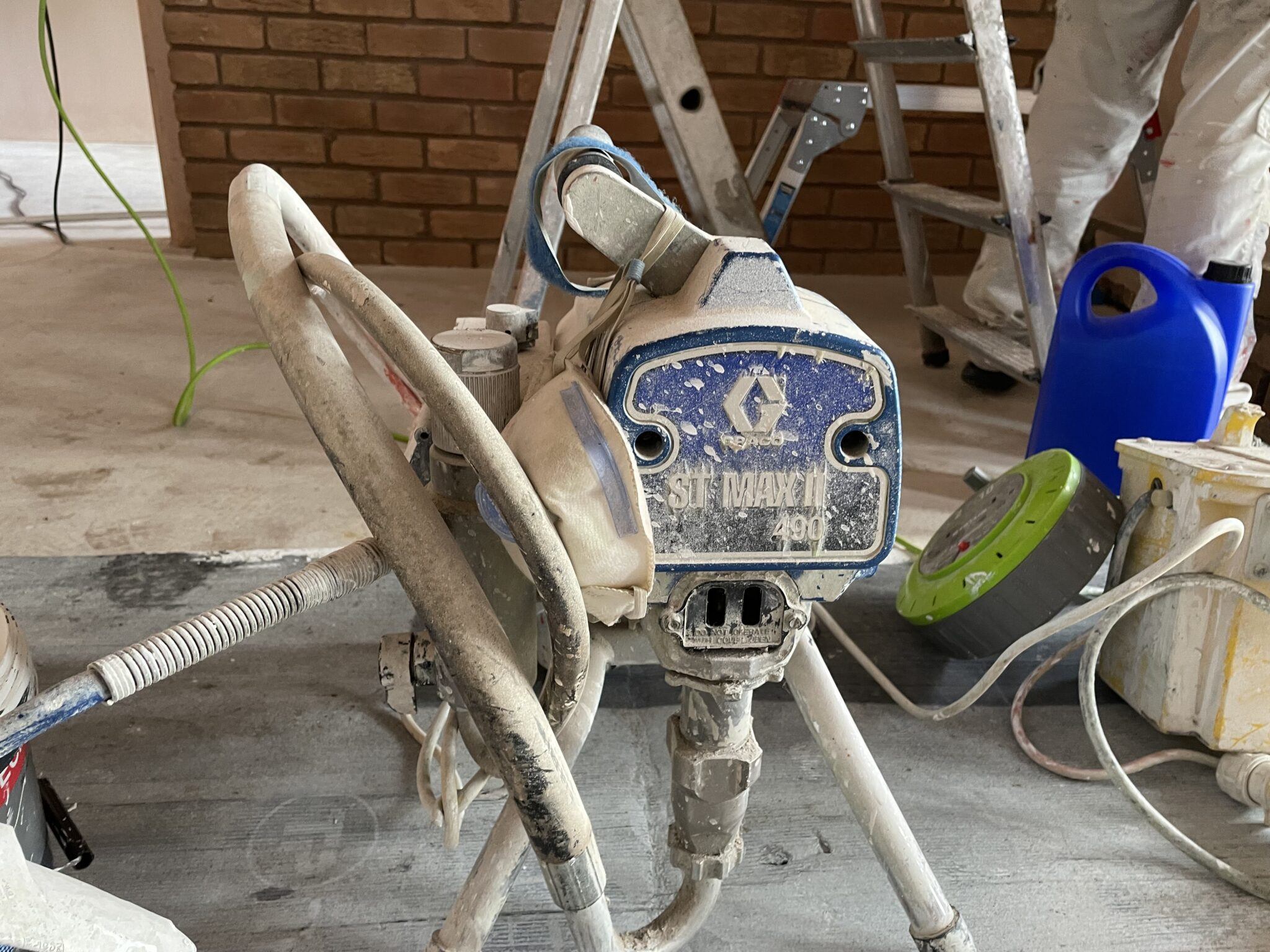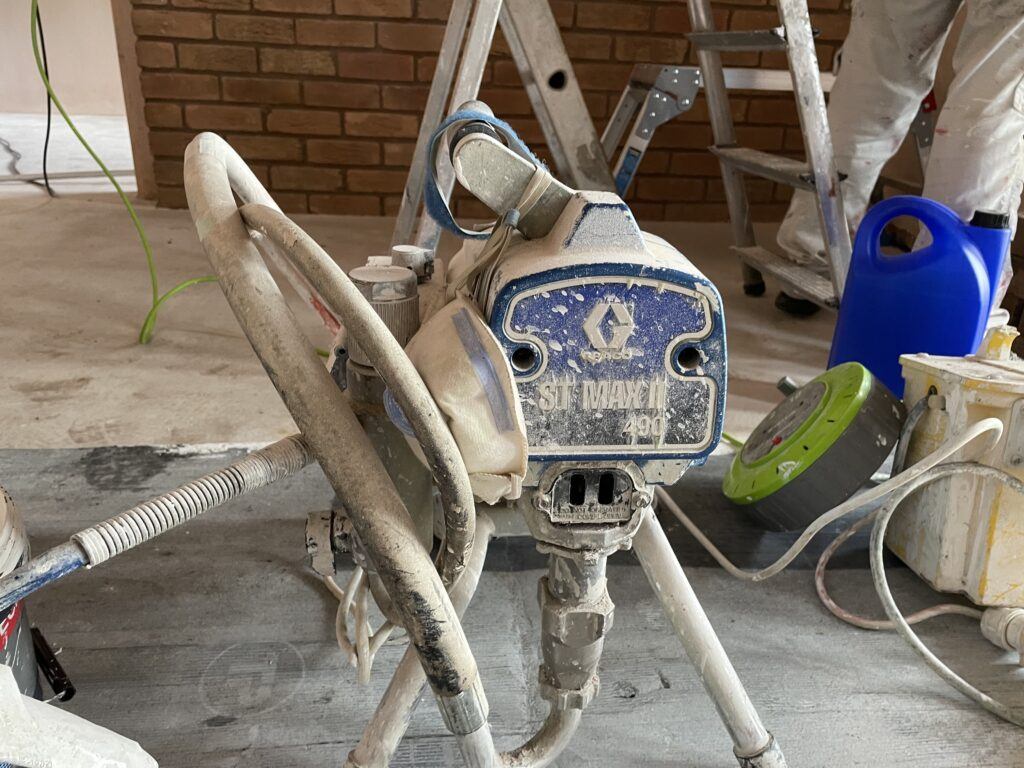 Sure you can spray paint plaster, we use all types of spray machines such as the Graco sprayer shown above, Airless spraying is the best way to get large areas of new plaster painted super fast though most people don't have a spray gun thats capable of this and they cost a pretty penny to buy just for one project.
Don't waste your time or money buying a cheap sprayer that's not going to be capable of doing the job as it could also result in a poor finish.
You would at least need a standard 110-Volt airless spray machine which you could hire or you can call the professionals in if you have a huge project to complete and take all those headaches away by leaving it to the professionals.